Products
Jim has just released his new book:
Helping Public Schools Bridging the Gap - 101 Ways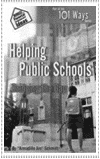 People too often believe they have no way to get involved in public schools, but it's just not true.
I Cried Too Products



I Cried Too™ was created in April of 2000 as a grief recovery project for children featuring a children's book, CD, and companion plush bunny rabbit, named Abundance™. It was chosen by the Pentagon as their official bereavement gift for the children who lost a mom or dad on 9-11 & now the War In Iraq.
The I Cried Too™ project received a special proclamation from New York City and appreciation letter from First Lady Laura Bush. I Cried Too™ brings hope & healing to anyone who has experienced a tragedy. The Schmidt's, Jim and Sheila with their teenage children, Blake and Fiona co created the project and are recognized for their testimony, media, I Cried Too™ story, and songs. The program offers an array of talent with a message of hope to those who are hurting.